Pay safer and faster using your Resource Bank Visa Debit Card with Apple Pay®, Google Pay™ and Samsung Pay™.
Making a payment with your Resource Bank Visa Debit Card has never been easier. Simply add your debit card to the Mobile Wallet on your device, and tap to pay when you see the contactless symbol.
Click "Learn More" under your type of device for step-by-step instructions on how to add your card, FAQs, and to learn more about your mobile wallet.
To activate your debit card, call 866.633.5293. This line is available 24/7.
Keep in mind, you must call from the main number associated with your account.
Debit Cards available on Personal Checking, Business Checking and Health Savings Accounts.
We also offer an ATM only card.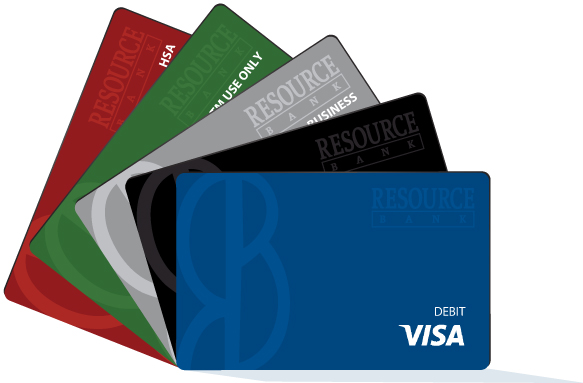 SecurLOCK® Communicate is a fraud protection service that helps identify and stop your Resource Bank debit card's unauthorized use. It provides real-time interactive two-way SMS text, voice, and email fraud notifications to the contact information attached to your debit card. It allows for quicker delivery of fraud notifications and the ability for you to respond more efficiently.
Confirm your account activity! Your debit card is automatically equipped with SecurLOCK®. You will receive a text or email(s) asking you to confirm if suspicious purchases are valid or not. We will ONLY ask you to verify if you made the purchase(s) or not. We will never ask for account or personal information via text or email.
Please make sure your contact information is up-to-date with Resource Bank so you can benefit from your SecurLOCK® Communicate debit card fraud technology.
Is this service 24 hours, or only in a certain window?

In other areas of business, we have calls only going out during certain hours so cardholders aren't being called after normal waking hours. Emails will be sent 24 hours. Text will be sent from 7:00 a.m. to 10:00 p.m. in the cardholder's time zone. Calls will be sent from 8:00 a.m. to 9:00 p.m. in the cardholder's time zone. Texts and voice calls pending from the night before will be triggered the following morning at the applicable time noted above. Agents are available 24/7.

How can I stop text messages if I don't want to receive them any longer?

All you need to do is respond back to the SMS text alert with the word STOP. U.S. consumers who have service through AT&T, Verizon, Sprint, and T-Mobile will not be charged message or data rates for our fraud alerts. We absorb that cost for you!

Will the product work for customers residing in Canada?

For Canadian consumers, both text and email alerts are available.

Can the alerts be sent to customers travelling internationally?

These customers have U.S. numbers, but are travelling overseas, possibly on a non-US carrier. We are unable to send text or phone calls internationally, but please make sure your email address is current as we can always email you 24 hours a day 7 days a week.

How do customers enroll?

We have already included you in these enhanced services as part of our fraud protection services.

What triggers these alerts?

Transactions that we have identified as potential fraud trigger the alerts.

If I receive an alert, does that automatically block my account from further purchases?

The majority of suspected fraud accounts will be blocked, just as they are today. However, some lower risk items may not be declined.

If I respond back that the transaction(s) are valid, will you automatically unblock my account?

Yes, though please keep in mind that it could take 5 – 10 minutes for a block to be removed in some situations.

If a transaction is declined due to suspected fraud, but I validate that I did make the purchase, can I try to complete the purchase again?

Once the alert is updated in our fraud system, you can attempt the transaction again, usually within 5 – 10 minutes of the initial call/text/email to validate activity.

What if my "yes" or "no" text response has a typo?

The system will accept many common typo variations of the "yes" or "no" text message response. If the system cannot understand what was typed, it will generate a message to call a representative for help.

Is there a difference for consumers and businesses cardholders?

No.

Can I establish preferences through my mobile app?

Communicate alerts are not configured through a mobile app, but rather through our fraud systems. The standard order of engagement is:

Text

Voice Call

Email

Alerts generated overnight result in an email only until calling and texting hours are available. Text will be sent from 7:00 a.m. to 10:00 p.m. in the cardholder's time zone. Calls will be sent from 8:00 a.m. to 9:00 p.m. in the cardholder's time zone.

How do incoming and outgoing voice calls work?

Communicate actions are triggered by today's existing fraud alerts through the Falcon system. If a mobile phone is on record, a text alert will be triggered first. All numbers on record that are identified as a mobile phone will be utilized. Communicate has technology that allows it to determine if a phone number is a mobile or land line, so indicators within the processing platform are not required. If we do not receive a response to the text(s), the system sends an automated voice call asking you to confirm if authorizations are valid or unrecognized. If you select "Not Recognized," the call is transferred to an agent to confirm the fraudulent transaction(s). If there is no response to the text or voice call, an email is sent requesting that you confirm the transactions are valid.
This image shows you some samples of the helpful SMS text messages you might receive from the SecurLOCK® Communicate service. Text messages will display a sender number of 328-74:

And this image shows you a sample email communication you might receive from the SecurLOCK® Communicate service: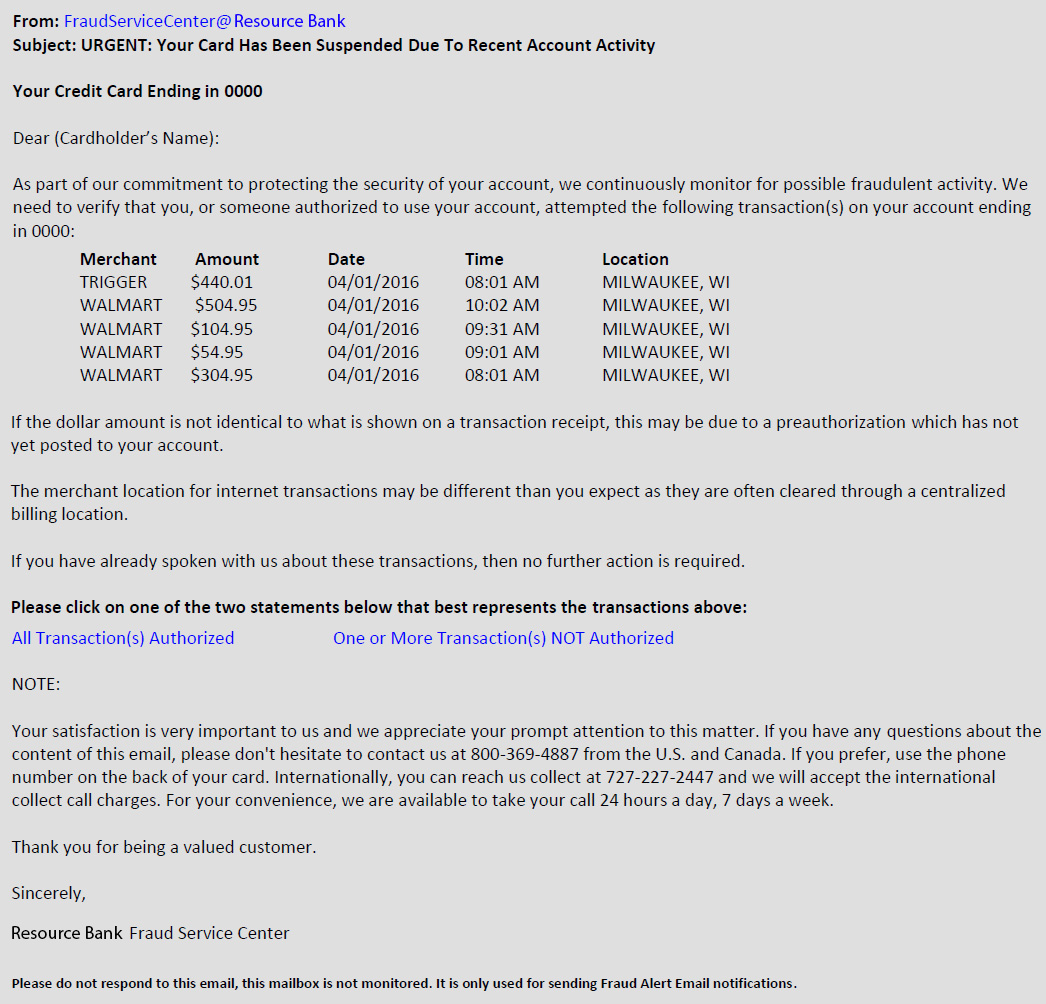 Report a lost or stolen ATM and/or VISA Debit Card during bank hours:
Resource Bank's Operations Department 985-801-0150
Report a lost or stolen ATM and/or VISA Debit Card after business hours and on bank holidays:
InterCept EFT Network 1-800-500-1044
Reorder Business Checks
Order business & computer checks
Look up the status of your order
Order deposit tickets, stamps and other supplies
Contact customer service via chat, phone or email
Reorder Personal Checks
Reorder your personal checks
Order personal deposit tickets
Look up the status of your order
Browse our full line of check designs and accessories
Order your Resource Bank checks online, anytime.
How to write a check
Local Banking. Better Banking.
985.801.1888
Baton Rouge | Bogalusa | Covington | Franklinton | Mandeville | Metairie | New Orleans | Slidell
Use your HSA debit card for qualified medical expenses.
See the benefits of a Heath Savings Account.
Learn More