Archives
Resource Bank Welcomes Kirk Maynard
Baton Rouge, December 30, 2019: Resource Bank welcomes Kirk Maynard as a Senior Commercial and Private Banker and Senior Vice President with Resource Bank. Maynard joins the Baton Rouge team at 9513 Jefferson Highway. A lifelong resident of Baton Rouge, Kirk proudly graduated from the University of Louisiana at Lafayette with a degree in Finance. During and after his college career, he was a Staff Sargent in the Air National Guard 159th Fighter Squadron. After graduation, Kirk moved to Baton Rouge to become a Consumer Underwriter/Analyst, which led to a role in Business Underwriting, eventually leading to Commercial Lending where he has spent the last 13 years of his career. Prior to joining Resource, he served as Chief Lending Officer for Plaquemine Bank & Trust. Kirk has been actively involved in serving the Baton Rouge community through his work with various organizations. He was a member of the Baton Rouge Chamber's Leadership Program in 2010, the Iberville Chamber's Leadership Program Class of 2018, and coached for the Gonzales Soccer Club. Please join us in welcoming Kirk to the Resource Bank team!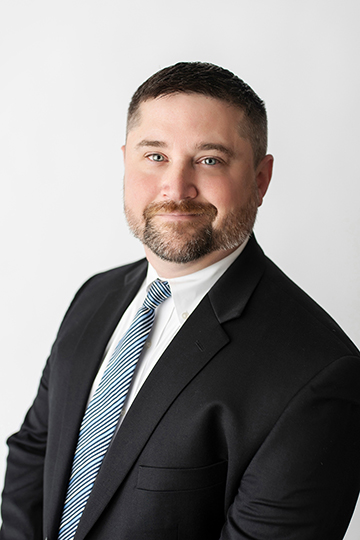 ---
The Vincent Liberto Jr., Fund
Covington, September 23, 2019: The Greater Mandeville Police Foundation has established a donation account at Resource Bank for the "VINCENT LIBERTO JR., FUND". All donations received will be presented to Captain Liberto's immediate family by The Greater Mandeville Police Foundation. For official information regarding memorial fundraising, questions can be directed to the Mandeville Police Department. Donations are accepted at any Resource Bank location or by clicking the donation button below. Your generosity is appreciated.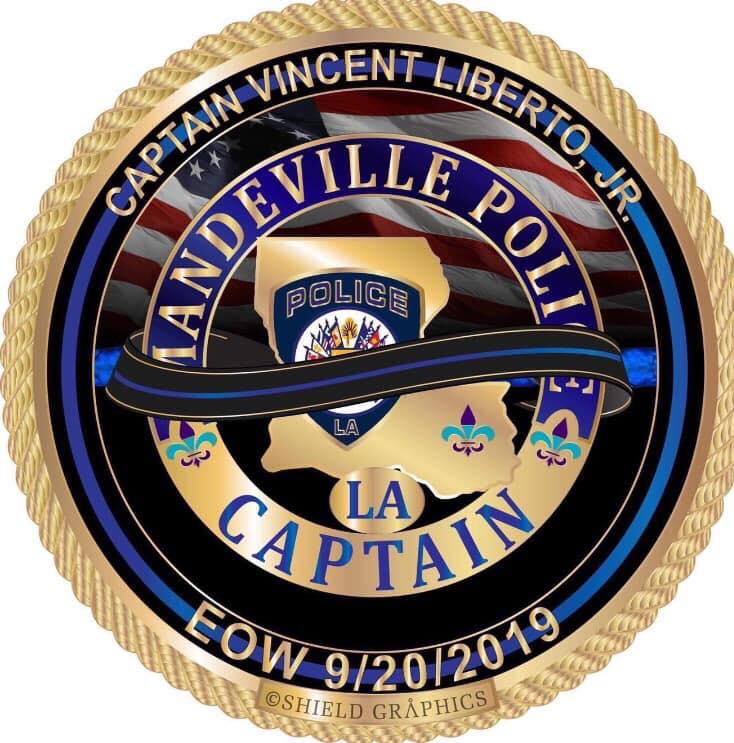 ---
October is Customer Appreciation Month
Let's celebrate you! Resource Bank invites you to the 21st Annual Customer Appreciation Cookouts. Stop by your local branch and enjoy lunch on us. It's a small way to thank you for your business and referrals. View the October cookout schedule below. Follow us on
Facebook
to get cookout updates and RSVP to our events.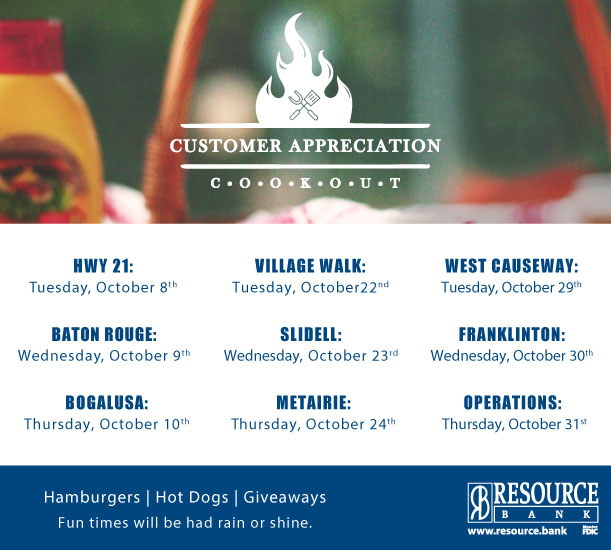 ---
Night Owl? No Problem.
---
Women's Restoration
Hammond, September 19, 2019: Resource Bank employees Clair Leger and Teresa Morel made a package delivery to LynHaven Retreat. They delivered dozens of supplies needed to get the residents through cold and flu season. These supplies are necessary for the retreat to keep residents healthy and strong throughout their stay so that they can focus on their recovery. LynHaven is operated by the New Orleans Mission, a Christian humanitarian organization dedicated to working with homeless and hurting people to help them reach their full potential through rescue, recovery, and re-engagement. View more about LynHaven.
---
White Linen Night
Covington, August 17, 2019: On Saturday August 17th, Resource participated in Covington's White Linen Night. This event benefited Covington's Public Art Fund and was put on in conjunction with the Covington Business Association. It was a hot, Louisiana August night but that did not stop the community from celebrating our wonderful local artists. Clad in their white outfits, patrons walked down Columbia Street stopping in art galleries, restaurants, and businesses to view local artwork. Resource participated in the festivities with a "cool down station." Resource provided ice cold water and refreshing towelettes to keep guest hydrated as well as a shaded seating area with fans to rest and cool off.
---
Gilsbar Financial Education Presentation
Covington, August 14, 2019: On Thursday, August 14th Resource Bank gave a financial education presentation to employees of Gilsbar as part of their wellness program. The presentation focused on financial wellness and how to achieve it. Topics included budgeting basics, building up a strong savings portfolio, and minimizing unhealthy debt. Resource enjoys the opportunity to go out into the community and share tips and tools with community members to build a strong financial background.
---
Christwood Breakfast and Banking
Covington, August 9, 2019: On Friday, August 9, 2019 Resource Bank visited with residents of Christwood Retirement Community. Bank employees and residents enjoyed coffee and pastries while getting to know each other. Resource attendees included Patrick Collins, Cathy Galley, Fran Tynes, Taylor Keller, and Olivia Bailey. Resource introduced themselves and gave an overview of what they do for the bank and how they can be of service to residents. Residents enjoyed the opportunity to ask questions about Resource and learn about how we operate. Our employees always enjoy the opportunity to visit with and meet new residents of Christwood. Resource operates a satellite branch at Christwood that is open on Tuesday and Thursdays.
---
21st Bank Anniversary
July 20, 2019: On July 20th of this year, Resource Bank celebrated its 21st anniversary! Resource opened its doors on July 20, 1998 with one branch in Mandeville and quickly began to grow. Today, Resource has expanded to 11 branches throughout Southeastern Louisiana organically, without merger or acquisition. Our philosophy has held true throughout the 21 years of operation: to provide high quality service, knowledgeable personnel and active community participation. Resource celebrated by handing out sweet treats throughout the day to customers who visited branches on Friday the 19th. We look forward to the next 21 years of service to our clients and community!
---
Gulf Coast Elder Abuse Conference
Slidell, June 25-27, 2019: In June, Resource Bank participated in the annual Gulf Coast Elder Abuse Conference. The conference took place between June 25 – 27, 2019. During the conference, attendees participated in seminars and continuing education classes on topics such as Safeguarding Seniors from Scams and Safe Banking for Seniors. Our very own Shannon Bain attended the conference this year. She not only participated in various lectures but also set up a booth at the "It's Your Money" senior event at the Slidell City Auditorium. At this event, Shannon met with our community's seniors and answered any questions they may have had about Resource Bank or just general banking. We hope to see you at next year's Elder Abuse Conference!
---
Kokomo Stroll
Covington, June 22, 2019: On Saturday June 22nd, Resource Bank participated in Kokomo Stroll in Downtown Covington. During this event, patrons strolled around downtown and stopped to sample a summer cocktail or small plate at "Stroll Stops" along the way. The event worked to promote our many local businesses and strengthen the community. Resource Bank was in attendance and served a delicious Rum Punch, flavored water, and offered a raffle. This event was organized by the Covington Business Association and Resource Bank was the presenting Sponsor.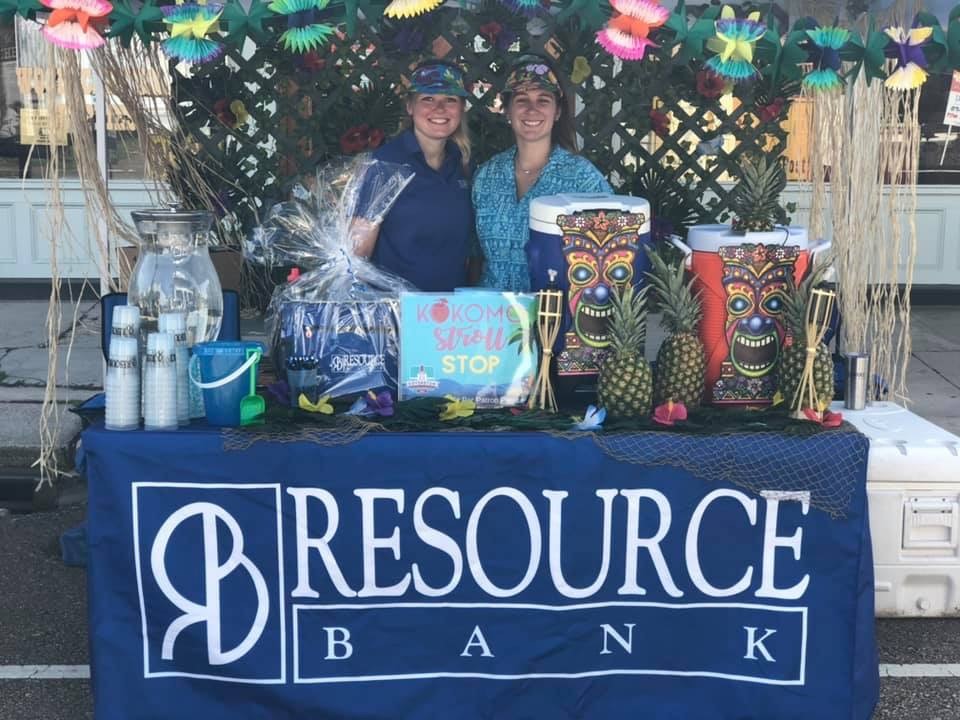 ---
Megan Martinez Installs Artwork at Resource Bank CBD Branch
New Orleans, June 15, 2019: On Saturday, June 15th new artwork was installed at Resource Bank's CBD location. This was the second installation of the year in Resource's artist program. Local New Orleans artist Megan Martinez installed her work throughout the branch. Megan's work is a mixture of acrylic and mixed media pieces on canvas. Her lively and abstract works in this collection bring a since of whimsy into the branch. You can view Megan's artwork in the branch from June to September.
---
Wesley Ray Summer Camp Financial Education Class
Bogalusa, June 12, 2019: On Wednesday June 12th, Resource Bank visited Wesley Ray Elementary School's 4H Summer camp. Community Development Coordinator, Olivia Bailey, taught campers ages 5-10 the basics of spending, saving, and budgeting. Campers "worked" while participating in the presentation and earned quarters for their participation. At the end of the presentation campers could either save their earnings or spend them in the "RB Gift Shop." All in attendance had a great time learning about financial responsibility!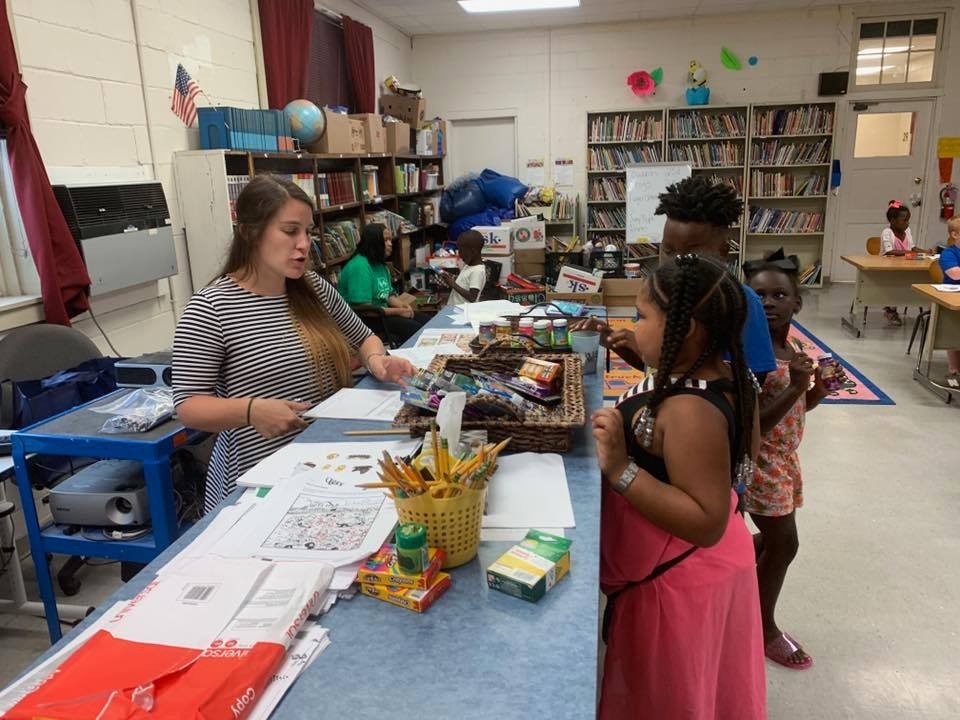 ---
Pam Soileau Installs Artwork in Resource Bank CBD Branch
New Orleans, February 19, 2019: On Tuesday, February 19th new artwork was installed at Resource Bank's Downtown New Orleans branch at 412 Magazine Street. This is the first artist of the year to be featured in Resource's Art Showcase Program. Each quarter a new local artist is selected to display a selection of their work in the historic CBD building. This quarter's artist is Northshore local, Pam Soileau. Soileau is a passionate lifelong painter who uses vibrant colors to depict her subject. She paints a number of abstract pieces with acrylic paint on canvas. Her pieces are truly unique and will set the stage for the upcoming spring season. You can view her art in our branch now through June. We are excited to welcome Pam and her art to Resource Bank!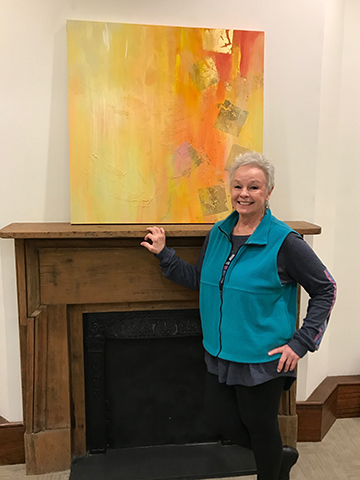 ---
"Money Management" Financial Education Seminar
New Orleans, February 12, 2019: On Tuesday February 12, Resource Bank visited Ozanam Inn and hosted a financial education seminar as part of the Inn's Life Skills Program. The seminar focused on "money management" and was presented by Resource Bank's Keith Freire, a Commercial and Private Banking Officer. Topics covered included how to build a budget, improve your credit score, and prevent identity theft. Keith has worked with Ozanam Inn for the past 5 years teaching similar classes and will continue to do so throughout the year. Ozanam Inn is a non-profit, direct service agency serving the homeless and needy of greater New Orleans. All services are provided free-of-charge. The Inn was established in 1955 by the Society of St. Vincent de Paul and named in honor of Frederick Ozanam, who founded the Society in 1852.
---
"Safe Banking for Seniors" Financial Education Seminar
Covington, February 9, 2019: On Friday February 9th, Resource Bank hosted a Financial Education Seminar for the residents of Christwood Retirement Community in Covington, Louisiana. Information presented focused on "Safe Banking for Seniors." Nearly 25 residents attended the seminar that was presented by Sarah LaRocca, Olivia Bailey, Patrick Collins and Cathy Galley. The agenda covered topics such as how to protect assets and prevent theft, how your bank can help spot fraud, and what to do if you suspect fraud. This was the first of the 2019 quarterly series aimed at providing residents with continual education on current banking practices. Future seminars will focus on preventing elder financial abuse, budgeting, and cybersecurity.
---
New Orleans Artist Party Featuring Jay Appurao
New Orleans, January 9, 2019: On Wednesday, January 9th, Resource Bank hosted our quarterly Artist Party at our New Orleans Branch located on the corner of Magazine and Poydras. Every four months we have a new artist fill our gallery walls with their artwork and during that time, we host an Artist Party for family, friends, co-workers and clients to appreciate the art.
Jay Appurao, more commonly known as Dr. Jay, is a "totally self taught artist and mostly does Oil paintings and Drawings with Oil Pastels and, Graphite. He jumps between photorealism to impressionism often. He also jumps from natural scenes to still like portraits. All of his travels to many countries, some of them exotic like Iceland, tend to allow for a great variation in a study of beautiful peoples and scenery."
We had a total of 45 guest who enjoyed a wine tasting by James Moises of Bizou Wines, and hors d'oeuvres. A great time was had by all.
---
Krewe of MCCA Toast to the King and Queen
Bogalusa, February 6, 2019: On Wednesday, February 6th, Resource Bank toasted to King Barber and Queen Goode of the Krewe of MCCA parade. The parade will run through Bogalusa on March 1st from 1:00pm - 3:00pm. Listed from left to right: Megian Farias, Kristal Holcomb, Darla Breland, Bridget Owens, King Barber, Queen Goode, Cindy Allen, and Jake Runfalo.
Hunt Vaughn Named Northshore Market Leader
Covington, November 21, 2018: Hunt Vaughn has been named Resource Bank's Northshore Market Leader as of November 21, 2018.
A native resident of Mandeville, Hunt Vaughn is a graduate of Fontainebleau High School. Mr. Vaughn attended LSU where he received his Bachelor of Arts with a concentration in Finance. He has proudly worked for locally owned Resource Bank for the past 14 years and currently is a Senior Vice President in Commercial Banking and newly named Northshore Market Leader.
"Hunt is a great asset to Resource Bank and we are happy to appoint him as the inaugural holder of this newly established position. He has gone above and beyond in the Commercial Banking Department. His experience in the industry and deep roots in the local market adds value to our team and to our clients." Pat Campbell, CLO
During his tenure, he has had the opportunity to attend the Graduate School of Banking and serve on several fundraising committees/memberships for our local Home Builders Association, the Northshore Kiwanis Club, and was a mentor of the Northshore Young Entrepreneurs Academy. Hunt, along with his wife and two children reside on the Northshore and continue to look for opportunities to better the community for future generations.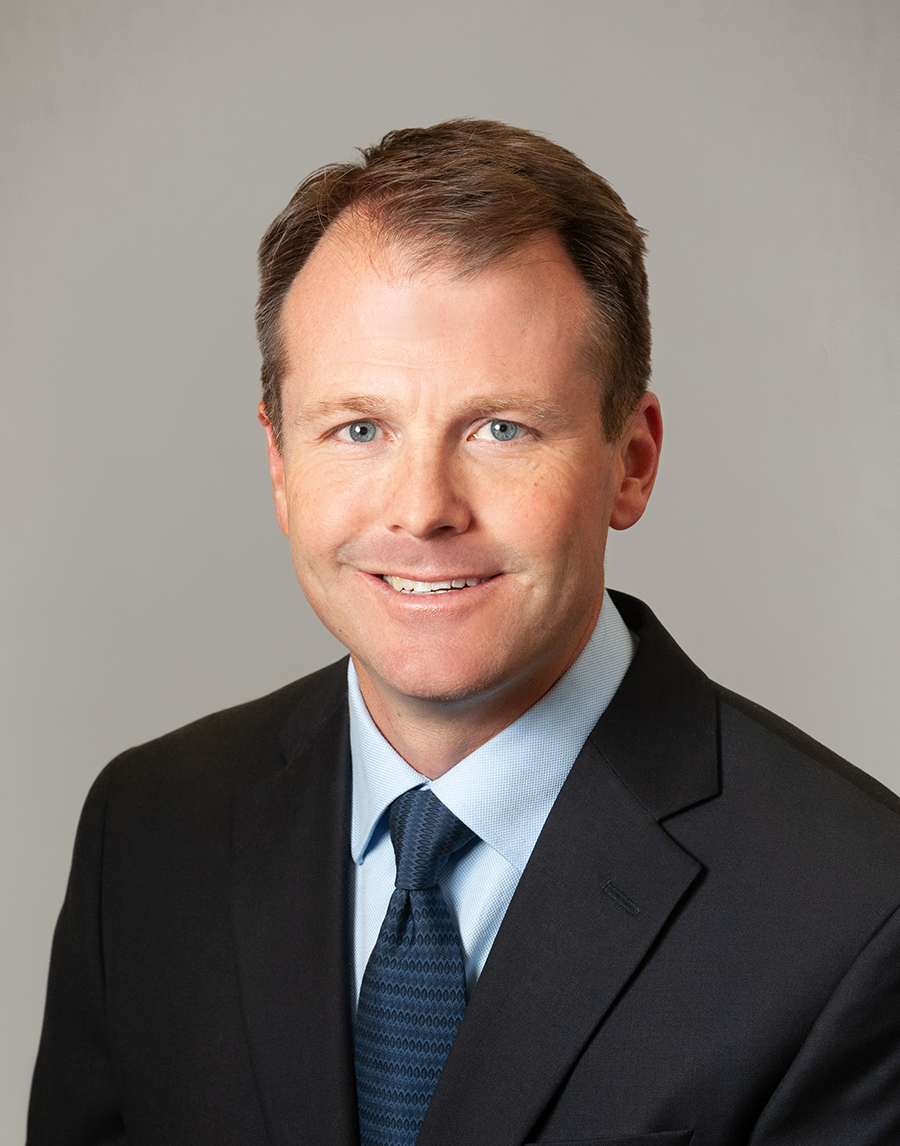 ---
2018 Customer Appreciation Cookouts
Covington, October 26, 2018: Resource Bank finished out our Twentieth Annual Customer Appreciation Cookouts with serving a total of 1,725 burgers, 530 hot dogs, and 432 pieces of our newest addition, chicken. We look forward to this event each year, and are very thankful to have such wonderful customers.
---
Trula Remson Joins Resource Bank's Board of Directors
Covington, July 25, 2018: : Resource Bank announced the appointment of Trula H. Remson, architect and founding principal of Remson, Haley, Herpin Architects, to its board of directors effective today.
Originally from Bogalusa, Trula attended Louisiana State University graduating Magna Cum Laude from the College of Design. Trula along with her husband, Christopher Remson, founded Remson, Haley, Herpin Architects in Baton Rouge over 23 years ago. RHHA has grown from a literal "mom and pop operation" to an award winning 16-person firm with 10 licensed architects offering architectural and design services regionally.
"Trula exemplifies the spirit of our community and brings creative energy to the table. We are very fortunate to have her join us as we continue to strengthen relationships in the areas surrounding Baton Rouge, our newest market." Chris Keller, CEO.
Trula has been actively involved in the American Institute of Architects at all levels. She served as AIA Baton Rouge President in 2001, AIA Louisiana President in 2005, and as a Regional Director for the AIA National Board from 2007 to 2010 and is still actively involved with AIA Baton Rouge. Trula was recognized with Baton Rouge Business Report's "Top 40 under 40" in 2004 and the "Influential Women in Business Award" in 2006. Although, her proudest professional accomplishment was being admitted to the AIA College of Fellows in 2015, an honor awarded to members who have made significant contributions to the profession.
With the appointment of Remson, Resource Bank's board consists of 10 members, including: G. Chris Keller, Jr., chairman, CEO, Resource Bank; Chandler Craig, Jr., vice chairman, president, Resource Bank; Michael B. Burris, lead director, CPA; David A. Briggs, Jr., president, David Briggs Enterprises, Inc.; J. Storey Charbonnet, partner, Johnson Rice & Company, LLC, Dennis E. Crowe, president, Magee Financial Corporation; Maura W. Donahue, vice president and co-owner, DonahueFavret Contractors, Inc.; Katherine M. Gibert, CPA & principal, Southern Wealth Management, LLP; David Lindsey former CFO, Resource Bank. Please join us in welcoming Trula to the Resource Bank team.
---
Dial in on Your Spending with Transaction Categorization in Online Banking
Covington, March 23, 2018: We are pleased to announce new features are coming as part of our Digital Banking enhancements. Beginning on Monday, April 23rd, you'll be able to quickly set limits on expense categories you want to watch including your overall spending. You will see a narrowed down list of categories to the ones most commonly used when trying to achieve financial goals. You will be able to easily see the big picture of your spending habits on your personal accounts.
Automatic categorization of each transaction and clean, understandable transaction descriptions will be available throughout your Digital Banking experience. And if you feel the transaction belongs in another category or the description is incorrect – click and categorize it or modify the description – the system will learn your preferences over time. Not to worry about any expenses that don't fit nicely into the new categories as you can still add up to 15 of your own custom categories to meet your specific needs. In preparation for the upcoming category changes we suggest you download transactions for the past year prior to the April 23rd release date for your upcoming tax preparation and for your historical records.
You can set notifications to get regular updates on your overall spending or how close to your specific category limits you are – in just a few clicks. Now you are in a position to know exactly how your spending habits are impacting your finances.
We are constantly working to provide you with relevant tools to improve your banking experience - we hope these enhancements allow you to easily manage your finances in one place, with Resource Bank. As always, we appreciate your business.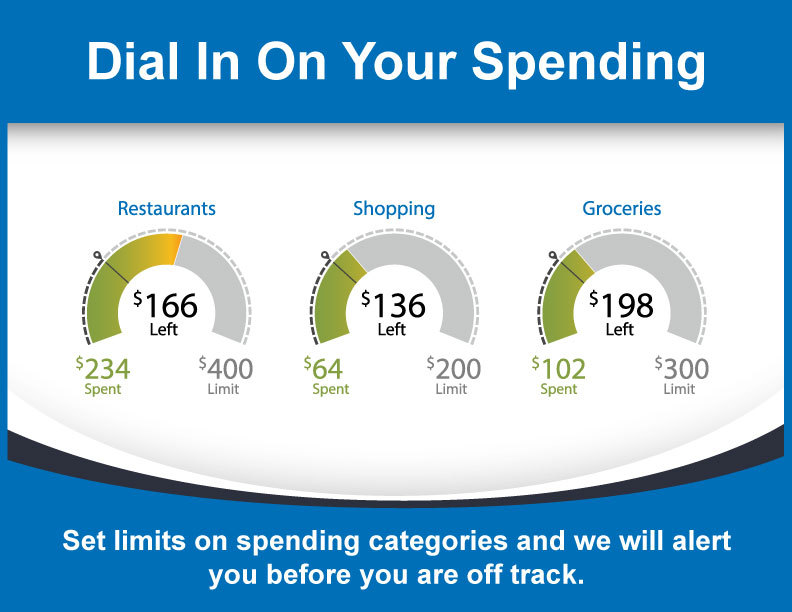 Customer Appreciation BBQs
Covington, October 26, 2017: Resource Bank completed the Nineteenth Annual Customer Appreciation BBQs. This event has really grown throughout the years. Resource Bank employees set up a spread of hamburgers and hot dogs so guest can dine picnic style under tents at nine of the eleven bank locations. "We look forward to the annual BBQ every year. It's a way for us to sit down and visit with our customers and community members," Fran Tynes, Marketing Manager, Resource Bank, said. Employees served close to 2000 hamburgers and over 500 hot dogs at this year's month long event.
---
Resource Bank Celebrates Baton Rouge Branch Completion
Baton Rouge, September 22, 2017: Resource Bank held a Ribbon Cutting and Grand Opening event on Thursday, September 21, 2017, at the newly built branch located at 9513 Jefferson Highway, intersecting Bluebonnet Boulevard. The Baton Rouge Area Chamber presented Chairman of the Board and CEO, Chris Keller, with gold scissors to cut the ribbon officially opening the bank's tenth full service branch. Resource entered the Baton Rouge area in May of 2016 and operated a loan production office during the construction of the 5,000 square foot facility. Representatives from the contracting firm, DonahueFavret Contractors, and architectural firm, Remson Haley Herpin Architects, were also present at the hosted event.
The opening of the East Baton Rouge location marks Resource Bank's expansion into their fifth parish. Market Leader, Bobby Fahey, is excited to open the doors to the branch. "The 'bank on the hill' is ready to serve our community. Our Baton Rouge team is ready to provide smiling customer service and personalized solutions for your banking needs." The Baton Rouge team includes Bobby Fahey, Senior Commercial and Private Banking Officer and Market Leader; Dean Bartels, Senior Commercial and Private Banking Officer, Senior Vice President; Chris K. Lee, Commercial and Private Banking Officer, Vice President; Tranisha Maracalin, Commercial and Private Banking Associate, Banking Officer; Andrew Lato, Branch Manager, Vice President; Reid Regouffre, Lead Personal Banker and Relationship Manager; and personal bankers, Veronica Medus and Beth Williams.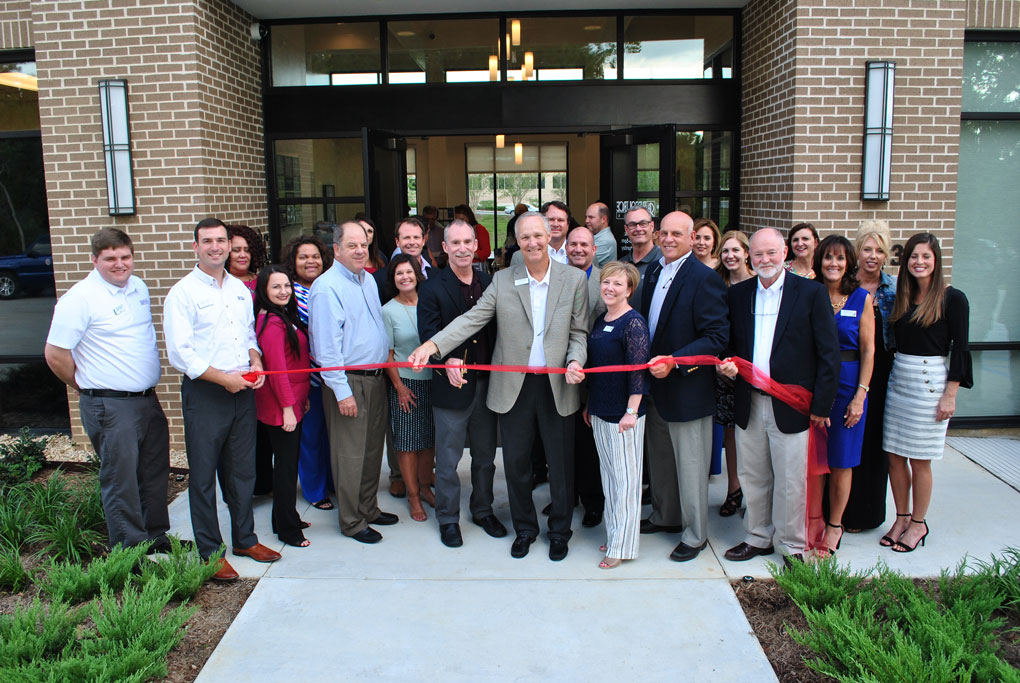 Local Banking. Better Banking.
985.801.1888
Baton Rouge | Bogalusa | Covington | Franklinton | Mandeville | Metairie | New Orleans | Slidell
Holiday Closures
View RB holiday closures.
Learn More